Pro-EU Progressive Party claims Serbia's general election
Comments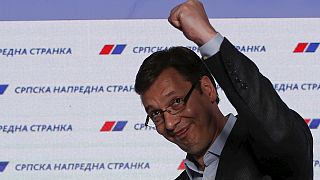 This is an historic result
PM Vucic claims his party has won election
Tipped to form a coalition with Socialists
Win endorses his EU stance – observers
But likely to face opposition from nationalists
What is happening?
Serbia's Vucic seeks mandate for EU talks, nationalists fight back https://t.co/GSlAF49N7Ypic.twitter.com/S1TsP6P9vJ

— Reuters Top News (@Reuters) April 24, 2016
Serbia's pro-Western Prime Minister Aleksander Vucic claims he has won the country's early general election.
Polls suggest his conservative Progressive Party looks set to win just under 50% of the vote, up from 48% two years ago.
Can Vucic govern alone?
Yes.
However, the 46-year-old could decide to broaden his support base even further by forming a coalition with the Socialists.
They came second with around 11.6% of the vote.
He could also choose to form a government with another party.
What does it mean?
Observers say this is a resounding endorsement for Vucic's policy of pursuing EU membership.
He went to the polls two years early, claiming he wanted a clear mandate for reform from Serbia's 6.7 million voters.
EU membership talks were launched in December and are on track for completion in 2019.
However, he will have to contend with a resurgent ultra-nationalist opposition which rejects integration with the bloc and seeks closer ties with Russia.
Who are the ultra-nationalists?
Profile: Vojislav #Seselj, a faded cheerleader for a 'Greater #Serbia' https://t.co/QblaVskzE0#izbori2016pic.twitter.com/RBIx9hCWMb

— Balkan Insight (@BalkanInsight) April 24, 2016
The election marked a resurgence by the ultra-nationalist Radical Party of Vojislav Seselj.
Last month, he was acquitted by a UN tribunal in The Hague of war crimes during the break-up of Yugoslavia.
The Radicals have been out of parliament for four years.
They look set to win around 7.8% of the vote, making them the third-biggest party in the assembly.
Some say they could be thorn in the side for Vucic, resisting his pro-EU policies and pushing for an alliance with Russia.
What they are saying
"This is an historic result, getting more votes in absolute numbers and in percentages than two years ago when we started difficult reforms," – Aleksander Vucic
"In future debates, we will show we are superior to our opponents." – Vojislav Seselj is not disappointed with the result.