South Korea's president Park Geun-hye arrested
Comments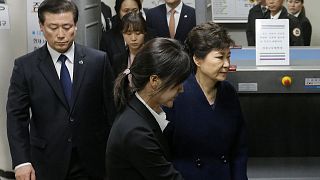 South Korea's ousted president Park Geun-hye has reportedly been arrested.
Officials say it came after a court in Seoul approved an arrest warrant in connection with the corruption and abuse of power scandal that led to her impeachment. Park is facing at least 13 charges.
She can be held in a cell for up to 20 days while she is investigated.
The former president is accused of colluding with a her now-jailed friend Choi Soon-sil to pressure South Korea's big businesses to contribute to now-defunct foundations in exchange for influence.
The scandal, which has also engulfed the country's biggest conglomerate Samsung, saw mass protests in South Korea last year, with tens of thousands of people taking to the streets calling for Park's resignation.