Euronews visits the Madrid headquarters of extreme-right group Hogar Social hours before it is evicted by police.
Euronews visits the Madrid headquarters of extreme-right group Hogar Social hours before it is evicted by police. Founded in the middle of the economic crisis, the organisation does not rule out making the leap into politics.
It's 12:30am and the doors have just opened. In and out of this abandoned mansion in the centre of Madrid pass dozens of people dragging carts and shopping bags. Some initiate timid conversations but most remain silent, looking lost, waiting their turn. The free distribution of food is done slowly but in an orderly manner. Almost one hundred people will visit throughout the day, families punished by the economic crisis but with another characteristic in common: all of them are Spaniards. At the headquarters of the Hogar Social Madrid (HSM) foreigners are not accepted.
This group, created only two years ago, represents the new extreme-right in Spain, although they prefer to call themselves 'patriots'. "If you love your country, you have to help your people," explains Melisa Domínguez Ruiz, 28 years old and the most visible face of the movement. Since 2014 the group has occupied five buildings in the city to carry out what they call "social work". On each occasion they have ended up being evicted by the police. The last eviction took place this week, just hours after Euronews' visit of the building, where ramshackle walls contrast with expensive cars parked on the compound and owned by some of HSM's members. Inside the building is an eclectic mix of people: university students, housewives, small businessmen, lawyers and a few skinheads.
"We occupy buildings to host people who have been evicted, we propose a free legal advice service and we also organise protests," explains Domínguez.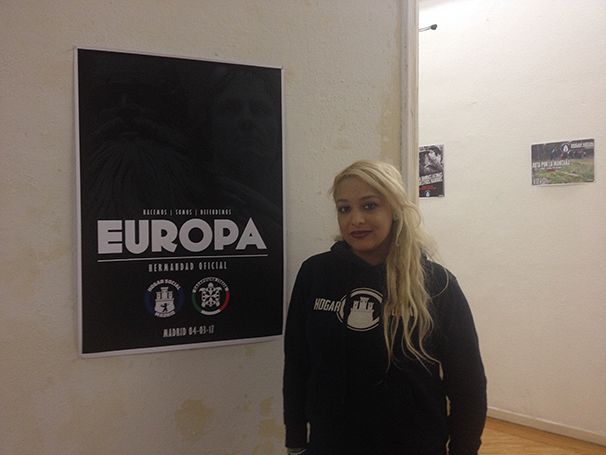 Melisa Domínguez Ruiz


Demonstrations such as the one held in front of the largest mosque in Madrid just after the attacks in Brussels in 2016. Or when they tried to disrupt a rally in support of Syrian refugees earlier this year. The de facto spokeswoman for Hogar Social denies, however, that they are an anti-Muslim or an anti-immigration group: "We help Spaniards, but if a foreigner comes in we talk to him and we explain to him which NGOs can assist him, what documents he has to present, etc." But barely half an hour after hearing these words, we see a man of Romanian nationality approaching the main door of the building asking for food. Two members of the organization cut him short with a categorical "you cannot enter here". No further explanation is offered.
(Article continues below)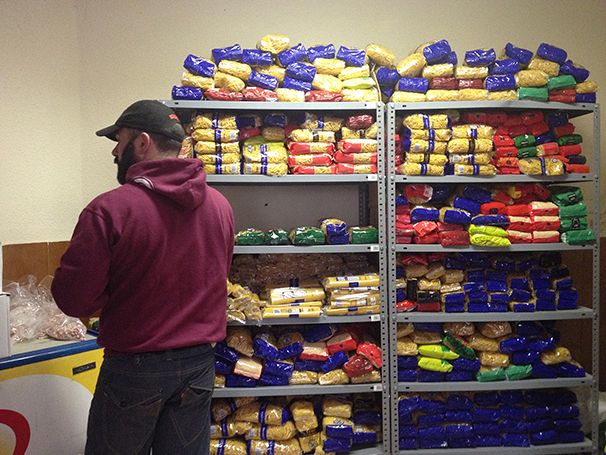 Some of the supplies destined for Madrid's poor…as long as they are Spanish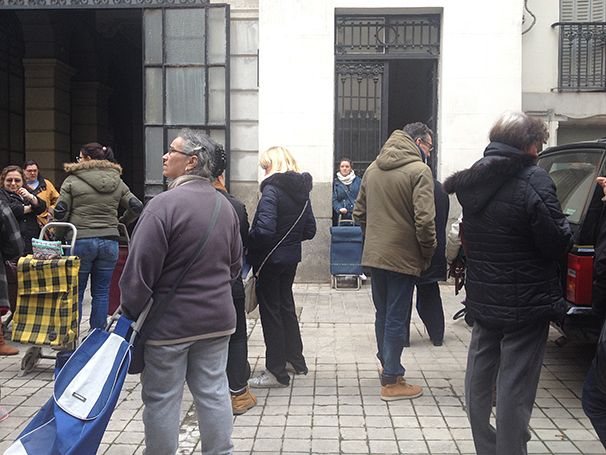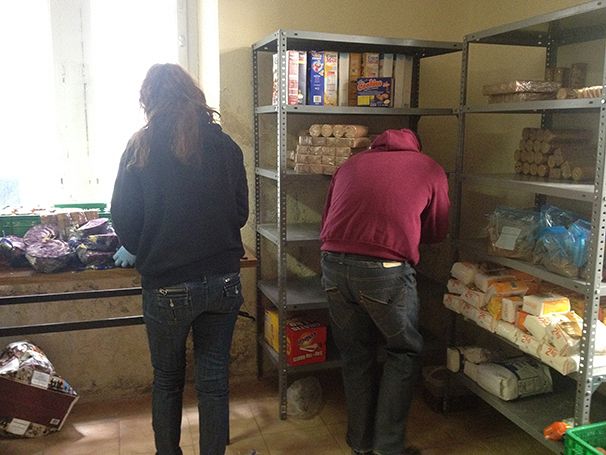 In fact, in HSM's protests you can see plenty of banners bearing slogans like "Multiculturality, insecurity". Xenophobic discourse is also confirmed when asked about Marine Le Pen: "I agree with her in her position on immigration and radical Islam," says Dominguez. Even so, the French National Front is not her ideal model to be emulated, "I like more the social action of Golden Dawn or Casa Pound. I think it's fundamental to be on the street, with the people", she says in reference to the Greek and Italian far-right movements.
Even though they haven't yet made the jump into the political arena and their only source of income is, they say, small donations and the sale of T-shirts, HSM has gained more media attention than any other far-right group in Spain in recent years. Another peculiarity is that there appears to be no nostalgia of the Franco regime, an absence of any symbol that harks back to the dictatorship, at least in public; many of the doors of the last occupied building were decorated with images of and allusions to Franco.
Hogar Social's members are not the first in Spain to insist on the link between immigration and crime. Before them local leaders of the ruling Popular Party used the same argument, but HSM's spokesperson is convinced that they have "managed to normalise this debate" in a country where the extreme-right is still a relatively small minority.
"There are many factors that explain why it is a small phenomenon: the historical weight of the dictatorship; the fact that we have only recently become a destination country for immigrants; or the fact that the erosion of the main political parties has occurred later than elsewhere in Europe", explains political scientist Xavier Casals.
So what does the future hold? According to Casals "we are witnessing a redesign of the political map and this discourse focused on immigration and security could have political potential. But making a forecast of what could happen is very risky." Those people speaking for Hogar Social they say they are sure that their strength will only increase: "Everyday we have more social support, more people who come to the demonstrations and support us on social networks," says Domínguez. The organisation does not rule out a move into democratic politics, but for now its priority is to occupy a new building that serves as headquarters.
"At the moment we are in the phase of creating social fabric, the rest will follow", predicts Domínguez.
Article contributed by Estela Celada