Brexit paperwork: Britons apply for dual citizenship
Comments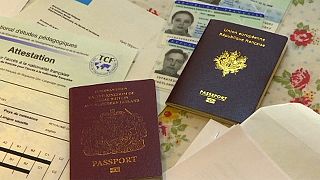 As Britain negotiates its complex withdrawal from the European Union, some Britons are preparing their paperwork for dual citizenship.
Applications for EU passports by British Citizens has surged since the Brexit vote, and many want to keep their options open.
Melanie Goodfellow, who is married to a Frenchman, told Euronews: "I am not going to run away from Britain, because 16 million of us still voted to remain European and I think we need to stay here and make that heard and make that clear.
"There's still 48% of us who wanted to stay in Europe and I'm sure if we did the referendum now, I am absolutely convinced. I don't know whether it would be a vote to leave."
With up to two years of Brexit talks, the future is uncertain for Britons living in Europe, and Europeans living in the UK.
Guardian front page, Wednesday 29 March 2017: Britain steps into the unknown pic.twitter.com/UGcrv0sLv4

— The Guardian (@guardian) March 28, 2017
Lucy Becquart has a French husband and wants to keep the rights of an EU citizen.
She said: "The Brexit deal hasn't actually come through yet, we don't know what it is.
"For me it feels like an extra security to know that I would have the equal rights of a French person – remaining British but having the equal rights of a French person if I were to move to France."
As the UK begins its complicated divorce from the EU after a relationship spanning more than forty years, some Britons are taking steps to stay European.
Applications for Irish citizenship continue to surge post-Brexit https://t.co/0OVQMWLhTe

— The Irish Times (@IrishTimes) October 21, 2016
Your questions about Brexit answered