Iran's 'religious freedom' angers ISIL
Comments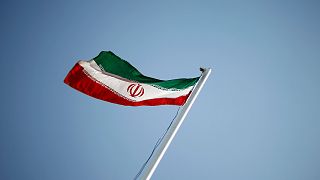 Islamist terror group ISIL released a video this week deliberately threatening Iran for supporting military campaigns against the self-proclaimed caliphate and for Tehran's tolerant views on Jews.
In a propaganda video released in Farsi, three ISIL militants condemned Iran's religious freedoms tolerant of Jews living in the country. They claimed Iran's paradoxical relationship towards Iranian Jews and Tehran's often anti-Israel political rhetoric is a Jewish conspiracy.
ISIS contrast Iran's anti-Israel rhetoric with religious freedoms that Jews have in Iran, as if that's a Jewish- conspiracy. Muppets. pic.twitter.com/K6dLkZ7Jh7

— Hayder al-Khoei (@Hayder_alKhoei) March 28, 2017
The video came as Iranian President Hassan Rouhani was to meet Russian President Vladimir Putin this week.
The trip was Rouhani's first official visit to Moscow.
The two leaders spoke about the region's multiple crises and of possible solutions to combat extremism and terrorism in the Middle East.
Both countries support Syrian President Bashar al-Assad and have committed military support in his fight against ISIL and other rebel groups fighting Damascus.
Iran also supports the Houthi movement in Yemen, which has championed the cause of the country's Shia minority in their fight against Yemen's President Ali Abdullah Saleh.
Jewish History In Iran
The ISIL video was an attempt by the jihadi group to revise Iran's long co-existence with Middle Eastern Jews, which dates back to biblical times.
An estimated 20,000 Jews live in Iran. The majority of them reside in Tehran, the Iranian capital.
Altogether they have about 15 synagogues, a hospital and a cultural association. Jews in Iran also have designated cemeteries in the capital.
In the Hebrew bible Cyrus the Great, a Persian king, is credited with delivering Jews from Babylonian captivity.
Esther, the Jewish queen of King Ahasuerus, another Persian king, is believed to have saved Persian Jews from being massacred. This is celebrated today in the Jewish holiday of Purim.
In 1948, Iran was the first "Muslim country" to recognise Israel's legitimacy as a country. But this would be revoked following the Islamic revolution and formation of the Islamic Republic of Iran.
Nevertheless, Iran's constitution identifies Judaism, Christianity and Zoroastrianism among the country's recognised religions.
The faithful are free to perform their religious rites and ceremonies within the limits http://www.iranhrdc.org/english/english/human-rights-documents/iranian-codes/3017-the-constitution-of-the-islamic-republic-of-iran.html?p=7 of Iranian law.
This is not to say the country has not had frictions with its Jewish minority.
Following the Islamic Revolution and the execution of a prominent Jewish leader in Iran, an estimated 300,000 Jews fled the country to live in Israel.
More details on the country's religious minorities can be found here.