Iran's President Hassan Rouhani arrives in Russia for Kremlin talks
Comments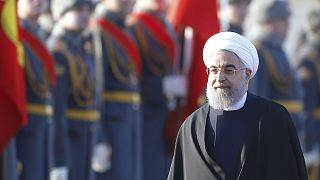 Iran's President Hassan Rouhani has arrived in Russia for a two-day official visit.
He was greeted by a guard of honour after landing in Moscow to discuss bilateral issues and cooperation between the two countries.
Rouhani will see his counterpart Vladimir Putin at the Kremlin on Tuesday, and he will also meet Prime Minister Dmitry Medvedev during the trip.
A number of bilateral documents are expected to be signed after the series of meetings.
Earlier Rouhani said he welcomed Russian investment in Iran's gas and oil fields, signaling major developments in energy cooperation between the two countries.
As Syria's six year-long civil war has sucked in both regional and international players, Iran and Russia have found themselves forging a new strategic alliance in the Middle East.
Along with Turkey, Russia and Iran have taken the lead in peace talks – mainly because the United States' influence in the region has waned. And notably those talks have taken place in Astana, the capital of a former Soviet Republic, Kazakhstan.
A new group of leaders are in the ascendant in Syria, at least in the government controlled areas. On the rubble strewn streets of newly recaptured Aleppo the posters of four leaders loom large: Iranian Supreme Leader Ayatollah Khamenei, Hezbollah leader Hassan Nasrallah, Assad and Russian President Vladimir Putin.
They've formed a new strategic alliance after Syria's military – mainly with the help of Russian airstrikes – finally defeated the anti-government rebels in Aleppo which were principally backed by the Sunni Gulf states
By letting Russian warplanes use one of its military bases to launch strikes on Syria, Iran also grew closer to Assad's fellow Shi'ite regime.
And now Iran and Russia find themselves firm allies in Syria's growing sectarian conflict.
The Shiite regimes of Syria, Iraq and Iran are positioned on one side and the Sunni regimes of the Persian Gulf, as well as Turkey and Jordan, on the other.
Ominously it's also evolved into an international conflict with
Russia and America on opposing sides of the sectarian divide.
That is in part down to Israel, which is itself a close ally of the US.
Its president Benjamin Netanyahu views Iran as Israel's arch-enemy, and earlier this month he met with Putin, telling him that there can never be peace in Syria whilst Iran has a presence there.
Meanwhile sophisticated weaponry, is flowing into the region, changing the military balance there.
Iran has been showing off its Russian made "S300 missiles": on state TV.
Ten years after agreeing a deal for their delivery with Russia, Iran finally got hold of them last year.
It was a deal Israel tried hard to block as crucially the S300s are capable of shooting down other missiles.
But there's also other sides to the new Tehran Moscow alliance.
Both rely on large energy reserves to keep their economies well-oiled and neither want to see see energy prices fall even further than they already have.
And both are fervently anti-Western on the international stage a message which goes down well with most Iranians and Russians, for now at least.