South Korea prosecutors seek arrest warrant for ousted President Park
Comments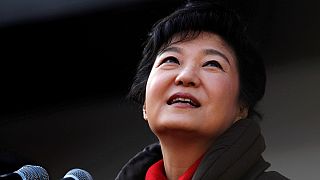 South Korean prosecutors have said they will seek an arrest warrant for ousted president Park Geun-hye.
If a court decides there is enough evidence for the warrant, the 65-year-old could spend up to 20 days in a cell, while being investigated on criminal charges including bribery and corruption.
She stands accused of conspiring with a friend, Choi Soon-sil of pressuring big businesses to donate money to foundations set up to back her policy initiatives.
Choi and Samsung's top executive have already been arrested. Prosecutors said that, although Park denied the charges, there was 'a danger of her destroying evidence' if she was not arrested.
Earlier this month, Park became South Korea's first democratically elected president to be removed from office when a constitutional court upheld her parliamentary impeachment.