Early voting starts for Turkish expats in controversial referendum
Comments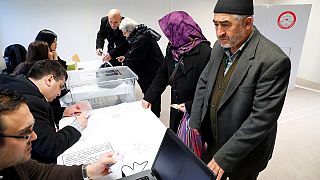 Turkish expats are casting their ballots in early voting in a referendum on whether to give more power to their country's president.
In Germany, for example, an estimated 1.4 million Turks are eligible to take part in the vote on changing the constitution, an issue that has divided public opinion.
One man in Berlin voting "Yes" told reporters: "We have a Turkish Republic and we will say yes all the way to the end. We are here to support the stability of our country."
But supporters of the "No" camp are also mobilised.
"This referendum is not taking place under democratic circumstances," said a supporter of the main Kurdish-rooted Peoples' Democratic Party, which organised a protest.
"Certain opposition forces are even being excluded from the voting process."
Referendum day in Turkey is April the 16th, but early voting takes place until April the 9th in numerous European countries with large Turkish communities.
Some EU states including Germany and the Netherlands got caught up in a diplomatic row with Ankara in the run up to the voting.
Turkey condemned efforts to block its ministers from holding political meetings to rally support for a Yes vote.