Bulgaria prepares to vote in tight parliamentary poll
Comments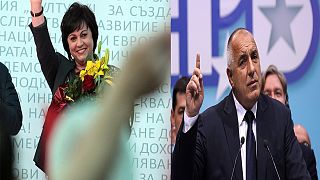 Bulgaria heads to the ballot box this Sunday for snap parliamentary elections which are predicted to go down to the wire.
Polls put the centre-right GERB party led by Boyko Borisov on around 30 percent, neck and neck with the rival socialists of Kornelia Ninova.
Neither candidate, however, is expected to win an outright majority.
It means Bulgaria's ultra nationalist party could ultimately become the kingmaker with the rest of the vote split between several smaller parties. Political experts say they are seeing a rise in anti-establishment politics in Bulgaria.
Analyst Anna Krasteva said: "The fragmentation of the vote can be seen as harsh criticism of the political elite. It is clear proof that a decade after EU integration- and that's a long period of time – Bulgarians are not happy. There is no definite and indisputable change for them to support with their vote."
From Bulgarian capital Sofia, Euronews' Damian Vodenitcharov said: "According to polls, the elections this Sunday will produce yet another fragmented parliament. Coalition talks have already started somewhat. But they are complicated by yet another factor — foreign influence, namely from Turkey and Russia."
Relations with Ankara are particularly tense. Turkey has been accused of deliberately interfering in the election with nationalists claiming Turkish officials are forcing expatriate voters to support the pro-Turkey DOST party.
Elsewhere, the current campaign has also focused on Bulgaria's future in the European Union and the thorny issue of migration.