Iraqi troops deploy new tactics in a fresh push for Mosul, as civilians flee ISIL sniper fire
Comments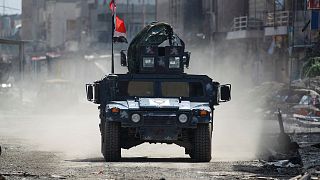 Iraqi forces are to deploy new tactics against Islamic State in Mosul.
Now into its sixth month, the US-backed offensive to oust the jihadists has slowed recently, as fighting enters the narrow alleys of the Old City.
ISIL fighters have put up a fierce resistance, with strategic car bombings and forcing residents to move furniture into the streets which the militants were booby-trapping.
Many civilians trying to flee the fighting have become moving targets for ISIL snipers.
"Maybe across the world, this is the first time something like this has happened. We're burying people on a daily basis," explains one resident of West Mosul.
Meanwhile in Syria, Kurdish troops told reporters they were advancing towards Raqqa, another ISIL stronghold, apparently reaching one side of the Taqba dam, a strategic point as they close in on the city.