Sturgeon claims London left her no choice but to go for independence
Comments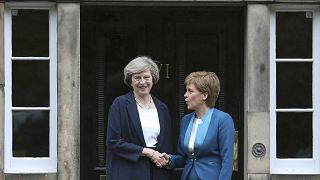 At 46 Nicola Sturgeon's entire life has been spent as a militant of the Scottish National Party, and now she is a real thorn in the side of Britain's Prime Minister Theresa May.
Nicola Sturgeon crashes Theresa May's party.#indyref2pic.twitter.com/wq7O8SgEsJ

—

BBC

Three (@bbcthree) March 13, 2017
On March 13th Sturgeon said she was willing to hold a new referendum on Scottish independence, despite the last referendum only some 30 months ago being generally described as a "once in a generation" vote. But time has speeded up.
Very interesting article by a former special adviser to Robin Cook. Well worth a read. https://t.co/nuRwGjEaBg

— Nicola Sturgeon (@NicolaSturgeon) March 21, 2017
Sturgeon said she had sought alternatives for Scotland since the Brexit vote in June last
year as Edinburgh wants to stay in the EU, but her overtures to the UK government
in Westminster had been rejected.
"As a result of the Brexit vote, we know that change is now inevitable. The question is what kind of change is right for Scotland, and should that be decided for us or by us".
" #ScottishEntrepreneurs: how would you vote in a second #Referendum?" (EmmalouSheppard</a>) <a href="https://t.co/IhAZCBrBu7">https://t.co/IhAZCBrBu7</a><a href="https://twitter.com/hashtag/Scotland?src=hash">#Scotland</a> <a href="https://twitter.com/hashtag/Business?src=hash">#Business</a> <a href="https://twitter.com/hashtag/SME?src=hash">#SME</a></p>— Prelude Accounts (PreludeAccounts) March 21, 2017
The timing is wrong insists Theresa May, who faces a quite difficult situation: on the one hand she will trigger Article 50 of the Lisbon Treaty on March 29 and on the other she has to authorize the electoral consultation in Scotland; in fact UK parliamentary approval is needed on any legally binding vote on Constitutional matters.
That is why she would prefer no new referendum.
Just imagine Brussels had told the UK that they are not allowed to have a referendum. That's the difference between Scotland's 'two Unions.'

— Callum McCaig (@callum_mccaig) March 16, 2017
"As we negotiate to leave the European Union, I want to negotiate an agreement that is going to work for the whole of the United Kingdom, that includes the Scottish people. The tunnel vision that the SNP has shown today is deeply regrettable. It sets Scotland on a course for more uncertainty and division," she said after Sturgeon's call for a fresh referendum.
A course the British chose when voting to leave the EU, rejecting the same argument that there was strength through unity May would make with the Scots.
Sturgeon intends for the referendum to be held in late 2018 or early 2019.
Here's today's Independent</a> cartoon... <a href="https://twitter.com/hashtag/TheresaMay?src=hash">#TheresaMay</a> <a href="https://twitter.com/hashtag/nicolasturgeon?src=hash">#nicolasturgeon</a> <a href="https://twitter.com/hashtag/brexit?src=hash">#brexit</a> <a href="https://twitter.com/hashtag/indyref2?src=hash">#indyref2</a> <a href="https://t.co/y6KUM4L5k6">pic.twitter.com/y6KUM4L5k6</a></p>— Dave Brown (DaveBrownToons) March 17, 2017
Scotland voted against independence 55 to 45 percent in 2014, but the Scottish government argues circumstances have changed since then.
According to weekend polls 44% Scots favour independence, 56% backed staying in the UK and 51% are against a referendum in any near future.
#BBCqt

If a comment is binding

Then #Scotland is independent already pic.twitter.com/R1g9BsHKwO

—

YES

(@YESthatcherDead) March 16, 2017