British PM: "We will never give in to terror"
Comments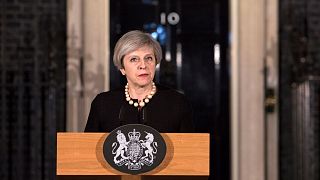 An emotional but defiant British Prime Minister has slammed the attack in Westminster as "sick and depraved"
Theresa May was rushed out of parliament when reports of the attack began to emerge and she went on to hold an emergency meeting of the government's crisis committee, Cobra.
"The location of this attack was no accident," she said to waiting media in Downing Street.
"The terrorist chose to strike at the heart of our capital city, where people of all nationalities, religions and cultures come together to celebrate the values of liberty, democracy and freedom of speech.
"These streets of Westminster, home to the world's oldest parliament, are ingrained with a spirit of freedom that echoes in some of the furthest corners of the globe.
"Tomorrow morning parliament will meet as normal. We will come together as normal, and Londoners and others from around the world who have come here to visit this great city will get up and go about their day as normal.
"They will board their trains, they will leave their hotels, they will walk these streets. They will live their lives and we will all move forward together, never giving in to terror and never allowing the voices of hate and evil to drive us apart".
Despite the attack, the Prime Minister said the UK's terrorism threat level will remain at "severe", just below the highest level possible.