Tragic end for 'Piggy Bank' turtle in Thailand
Comments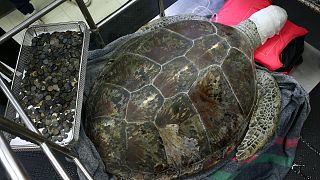 A turtle in Thailand which underwent surgery to remove hundreds of coins from her stomach has died from blood poisoning.
Named Omsin, meaning "Piggy Bank", fell into a coma after a second operation to save her on Sunday, following complications in her intestine.
Two weeks earlier, vets had hoped to save the turtle who had eaten almost 1,000 coins thrown into the public pond where she lived. One vet explained that she was already in a very bad way when they found her.
"She was not moving at the time and also the metal toxicity could be seen in her behaviour," said Dr Nantarika Chansue, Aquatic Animal Veterinarian from the Chulalongkorn University.
The weight of the metal mass had cracked the 25-year-old turtle's shell, and she was rushed to surgery. After the initial operation, a gap left in Omsin's stomach caused her intestine to become strangled, blocking blood flow. An acute infection then caused the blood infection.
Despite her tragic end, vets in Thailand hope her death will act as a warning and save others from the same fate.
"I would like to urge everyone to change their behaviour, to stop using animals to fulfill our beliefs, our wishes. Because all lives are very important," Dr Chansue pleaded.
According to tradition visitors threw coins into her pond for good luck, in the end Omsin paid the ultimate price.