North Korea's rocket engine progress 'significant', says Seoul
Comments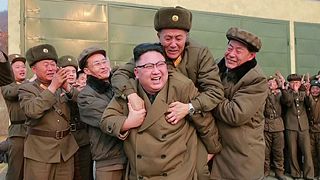 South Korea says the North's latest rocket engine test shows that Pyongyang has made "meaningful progress" in its missile capabilities.
North Korean state media showed leader Kim Jong Un overseeing the weekend launch – the latest of several tests of rockets and missiles.
The last ground test of a powerful rocket engine was in September last year.
In Seoul the Defence Ministry reacted to the North's latest move.
"We evaluate that (North Korea) has made significant progress in enhancing its engine capability through this latest test, but we need further analysis regarding its thrust and potential for being put into use," said the ministry's spokesman, Colonel Lee Jin-woo.
President Trump commented on leaving his weekend retreat in Florida aboard Air Force One.
He has already accused China of doing too little to help curb Pyongyang's weapons drive.
"I had a lot of meetings on that meetings on that: meetings on North Korea. He (Kim Jong Un) is acting very, very badly. I will tell you he is acting very, very badly," the US president said.
North Korea's test coincided with the US Secretary of State's visit to Asia.
Rex Tillerson visited Tokyo, Seoul and Beijing after warning that Washington's traditional approach of "strategic patience" with Pyongyang had failed and that military action was possible.
Tillerson says North Korea nuclear program is 'imminent' threat, as China urges talks https://t.co/UzoBs48H5opic.twitter.com/2hxFKrsIBd

—

POLITICO

(@politico) March 20, 2017