Germany calls on Turkey to tone down rhetoric
Comments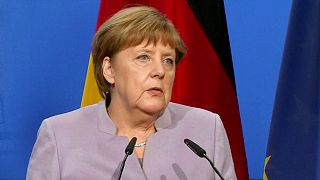 Germany has called on Turkey to tone down its rhetoric and avoid damaging relations between the countries any further.
It comes after the Turkish president accused Chancellor Angela Merkel of 'applying Nazi methods' against Turks and Turkish officials carrying out referendum campaigns in Germany.
Speaking from the CEBIT trade fair in Hanover, Merkel addressed the escalating row saying:
"My statement stands that the Nazi comparisons coming out of Turkey need to stop. No ifs or buts. Unfortunately these comparisons have not stopped and we will not allow the excuse that the end justifies the means, leading to each taboo being broken without consideration of the suffering of those that were persecuted and murdered under the Nazis."
The man confirmed over the weekend as the Social Democrats' candidate for the German Chancellorship Martin Schulz expressed his indignation.
"I have just heard it and seen a short excerpt of the clip from the speech of Mr. Erdogan. This is impertinent, it´s shameless that an ally insults the head of this country," Schulz said.
Tensions between Ankara and Berlin arose after several German authorities banned rallies ahead of Turkey's upcoming referendum on changes to the constitution which would effectively hand more powers to President Recep Tayyip Erdogan.