North Korea tops Tillerson's talks with Chinese President Xi
Comments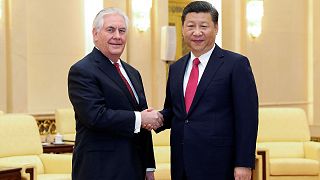 US Secretary of State Rex Tillerson has met Chinese president Xi Jinping at the end of his first trip to Asia since taking office.
Relations between Washington and Beijing have been rocked by Taiwan, trade and how to deal with North Korea.
China is said to have been especially irritated after repeatedly being told to rein in Pyongyang.
During their talks, Tillerson told Xi that President Trump looked forward to visiting his country and enhancing understanding between both Washington and Beijing.
"We know that through further dialogue, we will achieve a greater understanding that will lead to a strengthening of ties between China and the United States, and set the tone for our future relationship for cooperation," Tillerson said.
Washington wants Beijing to help curb the North's nuclear weapons programme.
The meeting between Tillerson and Xi came as North Korea's military tested a new high-thrust engine. Leader Kim Jong-un apparently hailing that as a 'new birth' in his country's rocket programme.
China has urged the US to take a cool-headed approach towards the North, calling for a diplomatic solution. On Saturday, however, Tillerson warned, no option, including military action, was off the table.