Apocalyptic scenes as scores die in Peru floods
Comments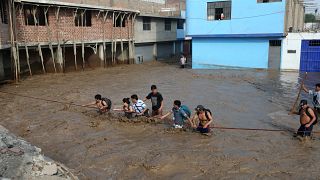 Apocalyptic scenes continue to make their way out of Peru after one of the deadliest downpours in decades.
A sudden and abnormal warming of the waters of the Pacific off the country's coast has triggered extensive flooding.
Peru's rainy season has delivered 10 times more rainfall than usual.
Abnormal El Nino in Peru unleashes deadly downpours; more flooding seen https://t.co/ncbb8YcCIMpic.twitter.com/p9WkYc3OOg

— Reuters Top News (@Reuters) 18 mars 2017
Has anyone been killed?
Yes. The authorities say at least 62 people have died and more than 70,000 made homeless.
Watch rescuers save people from rushing flood waters in Peru. More: https://t.co/XsLmoyLmNnpic.twitter.com/6cOlUHKWu8

—

NBC

News (@NBCNews) 18 mars 2017
What are the authorities saying?
An emergency has been declared in around half of the country. This means resources can be sent to the hardest-hit areas as a priority.
Prime Minister Fernando Zavala says these are mostly in the north, where rainfall has broken records in several districts.
Rescuers use ziplines, ropes and pulley systems to rescue people from rushing floodwaters in Lima, Peru. https://t.co/x1gJQXyVl7pic.twitter.com/kgierEQkXg

—

ABC

News (@ABC) 18 mars 2017
Is the bad weather over now?
Forecasters think not. Peru is bracing itself for another month of flooding.
The damage
Apocalyptic scenes of devastation have been recorded on cellphones and shared on social media.
Bridges have collapsed as rivers have breached their banks.
School has been suspended in the capital, Lima, and restrictions have been placed on running water after treatment systems were clogged up.
This prompted a wave of panic-buying of bottled water that led to shortages at some supermarkets.
Peru is suffering its worst floods in recent history—and some scientists say global warming is to blame: pic.twitter.com/3EGbsYVNJq

— Fusion (@Fusion) 18 mars 2017
Who has been worst-hit?
The vast majority of people affected by the extreme weather are poor. They include many who built makeshift homes on floodplains that had been dry for 20 years.