Trump and Merkel - the first meeting
Comments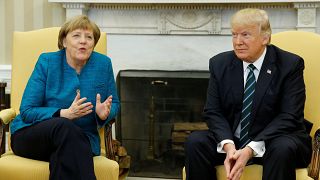 It was a meeting of might, if not of minds, when the German Chancellor and the new US president met for the first time in Washington.
The meeting between two of the world's most powerful leaders got off to an awkward start as Donald Trump apparently refused to shake hands with Angela Merkel in the Oval Office.
At a joint press conference, both seemed at pains to try to overcome their differences on trade.
"I'm not an isolationist. I'm a free trader but I'm also a fair trader and our free trade has led to a lot of bad things happening. You look at the deficits that we have and you look at all of the accumulation of debt."
Merkel struck a conciliatory tone saying:
"It is only fair that both sides profit from the treaties they made. So in this spirit I would be happy if we could resume discussions between the European Union and the United States of America. We signed a trade agreement with Canada and I hope that we might get into a situation here where we can reopen the talks. But this is something we will discuss," she said.
The German Chancellor began the briefing saying it was better to speak to each other than about each other, a clear reference to past criticisms both leaders had levelled over topics including immigration and fake news, issues they attempted to gloss over in the interest of diplomacy.