Trade and NATO to top Trump and Merkel talks
Comments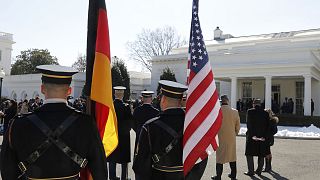 The last time Germany's chancellor Angela Merkel went to Washington it was at the behest of her close friend and ally Barack Obama.
Her meeting on Friday with President Donald Trump, however, takes place under very different circumstances amid concern over a host of issues, including, NATO, trade and the transatlantic alliance.
Speaking before the German parliament earlier this month, the chancellor said:"I am deeply convinced that the trans-Atlantic partnership, based on common values, is in all of our interests, not only for us Europeans. I'll hold my talks with President Donald Trump in this spirit in the coming week."
To say Trump has ruffled a few feathers in Germany would be to put it mildly. He has not only demanded Berlin boost defence spending, he has also threatened to hit German imports hard.
The US remains one of Germany's biggest trade partners. Last year, America bought a massive 107 billion euros worth of German goods and services. It exported just 58 billion euros the other way.
With Trump threatening to slap a whopping 35 percent border tariff on German cars, a key priority for Merkel will be to maintain barrier free trade between her country and the US.
On immigration, however, the two leaders could not be further apart. Before taking office, Trump called Merkel's decision to let hundreds of thousands of refugees into Germany a "catastrophic mistake".
"You know what a disaster this massive immigration has been to Germany and the people of Germany. Crime has risen to levels that no one thought they would ever, ever see. It is a catastrophe," Trump said.
But despite that storm of words and their differing stance on refugees both leaders have an interest in letting pragmatism can prevail. In addition to trade and NATO, there is much to discuss. Most notably Russia, but also climate change, the EU, North Korea and ISIL.