Svalbard Seed Vault - banking on the future
Comments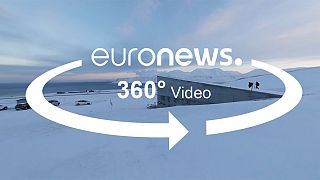 1,300km from the North Pole
Opened in 2008 by Norwegian government
940,000 seed deposits in a capacity of 4.5m varieties of crops
A 120m solid rock tunnel leads to the main vault
Artificially cooled to -18C
A slice of concrete pokes out from a frozen landscape near the North Pole marking the spot where a extensive library of seeds from around the globe hold the genetic keys to human survival.
Locked behind five doors, at 130m above sea level a series of tunnels lead to what some call the most important room in the world. It was built to last 200 years and to withstand explosions and climate meltdown.
Just before you enter the vault stands a room which has been nicknaked 'the cathedral'. Almost completely white and covered in ice crystals, it as where seeds are sorted before being placed in safe storage. Asmund Asdal, one of the vault's keepers, dreams of playing his saxophone in here due to the dreamy acoustics.
Behind the frozen door lies the main vault. Two other vaults lie empty, in wait for the thousands more seeds which will be stored in years to come.
The cold hits you as you enter the main chamber, where behind a fence lies a rather ordinary-looking stock room. But it belies the importance of its contents.
From all over the world, samples of chickpeas from Morocco, potatoes from Peru and rice from India lie in cold storage, potentially for hundreds of years. The vault is cooled to -18C, but if the electricity cut, it would take decades before it warmed to zero.
Asmund notes boxes from North and South Korea sit beside one another. In here geopolitics hold little sway.
It has earned the nickname 'the doomsday vault' as it is supposed to preserve earth's agricultural diversity in a worst-case scenario.
One of those cases happened in 2015, when seeds from Syria were retrieved, when their seed vault in Aleppo was shut down as fighting had made it inaccessible.
ICARDA, an organisation aiming to improve agriculture in dry zones, withdrew samples to duplicate the Aleppo bank as closely, and in February this year, they returned with 15,000 samples to deposit, as a backup of the backup.
The Svalbard vault was created for moments like this, a global insurance policy to ensure the genetic wealth of agricultural production for the future.
Genetic diversity – why is it important?
There is now so much CO2 in the atmosphere that a rise in global temperatures is inevitable – meaning adaptation is the only way to survive.
The IPCC report (March 2014) chapter on food security mentioned a probable decrease in agricultural yield of up to 2% per decade from 2030 onwards, unless farming is adjusted. Add to this a 14% increase in demand for food per decade until 2050, it makes for gloomy reading.
Crucial agricultural research is carried out on seeds to find the most productive and resistant crops for a different climate futures. This is where the seed vault plays a vital role, storing the genetic diversity needed to deal with the challenge.
Diversity is key to adaptation. Genetic variation is necessary for evolution. For plants this means genetic diversity in the older cultivars and their wild relatives, these are amongst the thousands of samples stored in Svalbard from all over the world.