Turkish foreign minister predicts 'religious war' in Europe
Comments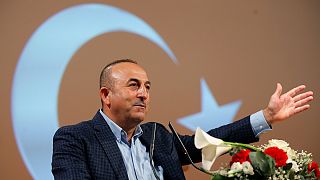 Turkey has increased its verbal attacks on Europe following the Dutch election, warning that the continent is on the verge of collapse into "religious war".
Speaking in Ankara following the triumph for Netherlands prime minister Mark Rutte, Turkish Foreign Minister Mevlüt Çavuşoğlu claimed that all the parties had the same approach as the right-wing and anti-Islam leader Geert Wilders.
Wilders' Freedom Party polled less well than predicted, coming a distant second.
"Where would you go?" Çavuşoğlu asked, addressing Europe's politicians. "Where are you dragging Europe to? You are collapsing Europe, you are dragging Europe to a cliff. Soon there will be religious wars in Europe."
The Netherlands have been locked in a bitter diplomatic spat with Ankara after refusing to allow Turkish ministers to conduct a presidential referendum campaign on Dutch soil.
Reactions to the Netherlands-Turkey row