Dutch values and identity are hot topics this election season
Comments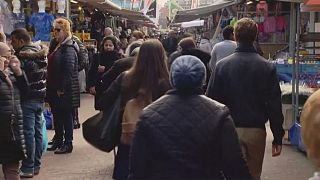 Euronews spoke to residents of one neighbourhood in The Hague, which is one of the most culturally diverse in the Netherlands.
Schilderswijk is home to a population of which some 85 percent is made up of first- and second-generation migrants.
Many are the children of the 'guest workers' who flocked here in the post-war economic boom from Turkey, Morocco, Indonesia and Surinam.
Locals say they had little time for the anti-immigration rhetoric of firebrand MP Geert Wilders, who has been topping opinions polls for months.
"What I think is really important is there needs to be a party that unifies, instead of dividing," said a shop owner. "Right now people are labelled and put into groups. They are Muslim. They are Dutch. They are Surinamese. They are yellow. They are black. They are brown. But what matters in the end is that we are all Dutch. And we live in this country. We can fight with each other but in the end we have to work together. If there is no party here that stands for that, then I have little hope of seeing a good 'Netherlands'.
"Imagine Wilders finishes first. All Korans removed from houses and all the mosques closed," a Dutch-Turkish clothing store worker told Euronews. "How do you want to do that? I am a Dutch citizen. I am religious. He wants to kick me out of the country if I do something bad, which I won't. But he wants to kick me out. Why? I have a Dutch passport. you can never kick out me. I am already here. What he wants is not doable. He just talks and tweets stuff that makes people look at each other differently. Let's just be nice to each other."
"Everyone is not the same," pointed out a Surinamese woman. "There are small groups who do it right. They try their best. They do what they must. But what he says is about all Muslims, I don't like that. He cannot say that."
"I think it is good living together and doing it well," an elderly Dutch-Moroccan man said. "Continuing on together. I don't just like it when someone says…..we have been living here for 50 years. My kids and grandchildren grew up here and they are used to being here. And then somebody comes and says 'you need to leave' or this or that. We are just people. And we do good for the Netherlands," adding that "we are all [from] Adam and Eve, we are all humans," when asked if he was referring to Geert Wilders.