US job growth and wages strong in February
Comments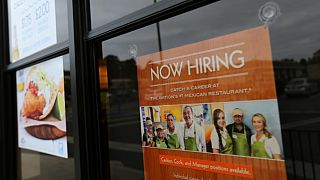 Job growth in the United States increased more than expected in February as employers added 235,000 workers.
It's a number that will embolden the Fed to raise rates in March

Chief US economist, RBC Capital Markets
The December and January numbers were revised to show 9,000 more positions were created than previously reported.
The US unemployment rate fell one-tenth of a percentage point to 4.7 percent of the workforce, even as more people entered the labour market.
More charts and analysis on the February nonfarm payroll employment numbers https://t.co/g1NChkPaFE#JobsReport#BLSdata

—

BLS

-Labor Statistics (@BLS_gov) March 10, 2017
Trump's first month
The statistics cover President Donald Trump's first full month in office but the job growth recovery predates his victory.
Inevitably they sparked Twitter exchanges.
The US created 237,000 jobs in February 2016 when Obama was prez. There is no Trump bump. https://t.co/utDqlY7UTk

— Emily C. Singer (@CahnEmily) March 10, 2017
Wages up
Last month's brisk pace of hiring was accompanied by steady wage growth.
Average hourly earnings were up by 2.8 percent from February last year.
With the labour market near full employment, wage growth could speed up as companies are forced to raise compensation to retain employees and attract skilled workers
US adds 235,000 jobs in February, annual wage growth at 2.8%. https://t.co/G6g7N9E49Npic.twitter.com/RWFdA3Lj5l

— fastFT (@fastFT) March 10, 2017
The labour force participation rate, or the share of working-age Americans who are employed or at least looking for a job, increased one-tenth of a percentage point to 63 percent, the highest level since March 2016.
Fed ready
The upbeat jobs and wages report report underscores the strength of the US economy gives the Federal Reserve reason to raise interest rates.
Fed Chair Janet Yellen signaled last week the US central bank was likely to put up the cost of borrowing at the policymakers' next meeting on March 14 and 15.
"By any measure this report is consistent with an exceedingly healthy labour backdrop and, I think more critically, it's a number that will embolden the Fed to raise rates in March," said Tom Porcelli, chief US economist at RBC Capital Markets in New York.
What should the Federal Reserve do next? Follow the leader, writes jasonfurman</a>: <a href="https://t.co/dPhMfumUIw">https://t.co/dPhMfumUIw</a></p>&mdash; WSJ Editorial Page (WSJopinion) March 9, 2017
The numbers
Manufacturing employment increased 28,000, the largest gain since August 2013
Construction payrolls rose 58,000, the biggest gain since March 2007, boosted by warmer weather
Retail sector employment fell 26,000, the biggest decline since December 2012
Utilities shed 1,000 jobs last month because of the milder weather
Government payrolls increased by 8,000 jobs despite a hiring freeze for civilian federal government workers since January