Eurovision in Ukraine: Russian entry causes controversy
Comments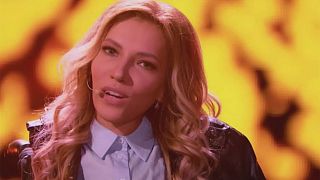 The conflict between Kyiv and Moscow looks set to enter a new arena after Russia announced its musical entry for this year's Eurovision song contest.
Wheelchair bound Yulia Samoilova will represent Russia at the event, which will be held in Ukraine in May.
But, the former talent show finalist, who said on Sunday that it was her lifelong ambition to take part in the competition, has also admitted visiting Crimea after its annexation in 2014.
That breach of Ukrainian law could see her banned from attending the singing contest. Ukraine's security service is said to be looking into the matter.
Moscow, which had considered boycotting this year's event, has denied deliberately striking a provocative note by choosing Samoilova.
If she does perform, she is set to sing the song – a Flame is Burning.
Last year Russia accused Ukraine of politicising the competition by choosing as its entrant a Crimean Tatar named Jamala. Her song decried war-time deportations of Tatars under Soviet leader Joseph Stalin in the 1940s.