Belarus protests put more pressure on Lukashenko over 'parasite' tax
Comments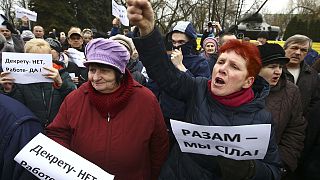 Braving the wrath of their hardline president, protesters took to the streets of Belarus over the weekend in the latest show of anger at a so-called 'social parasite tax' on those deemed to be doing too little work.
After earlier rallies, President Alexander Lukashenko agreed to suspend its collection.
But demonstrators want it scrapped altogether. Many were middle-aged and elderly people who complained there was no work for them.
"It is easy for him to say 'Go and look for a job!' Yes, you can look for a job long and hard. But how are you supposed to live in the meantime? I don't know…You have to pay for a flat, eat bread and use transport to look for a job," said a middle-aged woman in the city of Babruysk.
Others are going further, demanding Lukashenko's resignation.
"I'm sure that if everyone comes out, we will change the government and everything will be alright," said another woman in the city, where some 600 people took part in what was one of several provincial rallies.
"If we are going to be afraid, then in future our children will be afraid. Do you understand? People, come out!"
Following a wave of protests across Belarus, President Alexander Lukashenko takes a rare step back https://t.co/JieqPRiEhz

— The Moscow Times (@MoscowTimes) 10 mars 2017
The 'parasite' tax targets those working less than 183 days a year.
Before it was frozen, those eligible were required to pay the government the equivalent of more than 200 euros in compensation for lost taxes.
Seeking to improve ties with the EU and lessen Belarus's dependence on Russia, Lukashenko has over the past year heeded calls from the West to show greater lenience towards political opposition.
Ruling with an iron fist since 1994, his authorities did not use force against protesters, but later more than a dozen activists were detained.
Belarusian Police Detain More Opposition Leaders, Journalists Amid Latest Tax Protests https://t.co/A3vjvMmZYk

— Christopher Miller (@ChristopherJM) 12 mars 2017
with Reuters