Mall closed over terror threat in Germany
Comments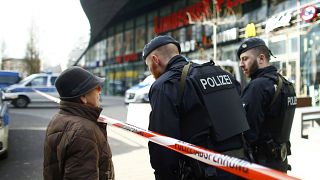 What would normally have been a bustling shopping centre in Germany was virtually empty. Uniformed officers were the only signs of life at the Limbecker Platz mall in Essen on Saturday.
Police had closed the mall acting on intelligence reports of a potential terror attack. The origin of the threat, the local media reported, was a German with links to ISIL.
In the afternoon, police confirmed they had searched an apartment in the nearby town of Oberhausen, and were also questioning another man in an internet cafe in the same town.
Germany is on high alert following deadly terror attacks in France and Belgium, and after a man drove a truck into a Berlin Christmas market in December, killing 12 people. As a result many people are feeling on edge.
"It's frightening, totally frightening," said Jasmina Alukic who works in the Essen shopping centre. "Because you stand in the shop and every day you must anticipate that anything happens. It is not a nice feeling."
The creeping feeling of unease is not helped by non-terror related attacks. Just a few days earlier a man with a history of mental illness carried out an axe attack at a train station in Dusseldorf. "You get this feeling that (trouble) is getting nearer. Now there's something up in Essen, you get a little bit scared," a resident of Essen told a reporter.
Security concerns are likely to be a major issue in the upcoming elections in Germany. It's something which Angela Merkel will have to grapple with as she seeks a fourth term as Chancellor.