ISIL close to collapse in Mosul say senior Iraqi military sources
Comments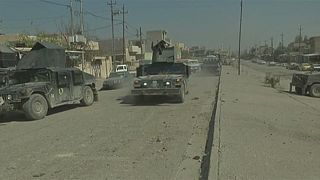 Reports suggest ISIL resistance in Mosul, Iraq's second city, may be crumbling as special forces push deeper into the city.
As the forces advance they turn up more evidence of ISIL's reign of terror. A mass grave containing some 500 bodies has been discovered in Badouch prison, and people come up to the liberating forces with stories to tell.
"Women were walking in the street when a mortar landed nearby. We rushed to help the wounded and we were hit by a second mortar," said one injured young man.
At least 200,000 people have fled the battle, and more are leaving every day as the fighting intensifies. Many of them are starving and in very poor condition. Some aid is reaching Mosul, but there is not enough to go round and whenever a truck arrives it is instantly surrounded by desperate people.
"They forced women to wear veils and young men to wear trousers and grow beards. They hurt us a lot, and humiliated us. They prohibited smoking. A single cigarette would cost four dollars; now it's $25. We did not have food and hunger and unemployment were rife," said one elderly resident of Mansour district.
The old city remains one of ISIL's last strongholds, but the Islamic militants appear to be on the brink of losing their last major urban base in Iraq. Most of the top leadership has left already to continue the fight elsewhere. For Mosul's residents an end to the fighting cannot come soon enough.