Two dead as South Korea's top court formally removes President Park Geun-hye from office
Comments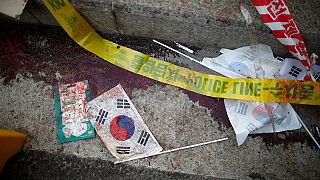 There have been ugly scenes in South Korea's capital Seoul after the country's highest court formally removed President Park Geun-hye from office.
Two of the ousted leader's supporters were killed on Friday after the ruling sparked violent clashes.
The judgement, which brings an abrupt end to Park's four years in office, means she is the first South Korean leader to be stripped of presidential powers since the country became a democracy in the late 1980s.
A new leader must now be elected within 60 days.
Earlier, the country's acting president called on his administration to heal the deep divisions inside South Korea.
Prime Minister and acting President Hwang Kyo-Ahn said:"To stop internal conflicts from intensifying, we should manage the social order and keep a stable government so that national anxiety and the international community's concern can be settled."
But the ruling by the constitutional court plunges the country into deep political uncertainty amid a growing nuclear threat from its hostile neighbour, North Korea.
Judges unanimously upheld December's parliamentary impeachment vote over Park's role in a corruption scandal. She is accused of colluding with a friend into forcing big business to donate millions of euros into return for policy favours.
Park continues to deny any wrongdoing but could now face criminal charges and possible prison after her presidential immunity was removed.