Tunnels under Mosul mosque show ISIL looted treasures
Comments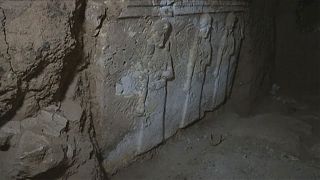 Archaeologists say they have evidence that the self-styled Islamic State were careful to preserve ancient artefacts in Mosul to take as loot – in contrast to their public displays of destruction of antiquities.
Tunnels have been found leading to a 7th century palace below Jonah's Mosque, which the militants blew up when they ran over northern Iraq in 2014.
They bulldozed and dynamited ancient sites, smashing statues and sculptures, declaring them all idolatrous.
However experts examining what they left behind in Mosul say ISIL dug the tunnels below the mosque carefully so as not to damage the treasures.
"As you can see the digging was very extensive and it includes a ramified tunnel network, with one tunnel leading to another in an attempt to dig as large an area as possible in order to unearth and loot artefacts," said Musab Mohammed Jassim of the Nineveh Antiquities and Heritage Department, describing what ISIL did as "an act of sabotage".
Experts have been surveying the damage since the mosque was recaptured in January this year by a US-backed Iraqi campaign.
ISIL's desecration of other sites recorded on video was used to illustrate their destruction of cultural history that didn't fit their interpretation of Sunni Islam.
But the United States, which in 2015 seized ancient treasures from the militants in Syria and handed them back to Iraq, has said looting and smuggling have provided ISIL with a significant source of income.
These tunnels under an ancient Mosul mosque show Islamic State's focus on loot: https://t.co/kun0Fjpdpmpic.twitter.com/Vv2XPhq6m9

— Reuters Top News (@Reuters) March 10, 2017