Several people injured in axe attack at Dusseldorf train station
Comments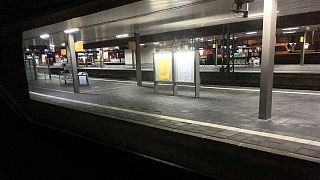 At least seven people have been injured in an axe attack at Dusseldorf train station.
Three people were severely injured, while four suffered light injuries, the "local police in Germany confirmed"http://www.presseportal.de/blaulicht/pm/13248/3581306 .
One man has been arrested, local police confirmed, correcting earlier reports of multiple arrests. He has been identified as a 36-year-old man from the Former Yugoslavia who lives in Wuppertal. They described the suspect as having 'mental health problems'.
His motive remains unclear, but police are not describing it as a 'terror' attack.
Searches are ongoing in the station and the surrounding area, although as yet there is no information about further attackers.
The country is on high alert after a string of terror attacks. The latest, less than three months ago, a man drove a truck into a Christmas market in Berlin, killing twelve people.