Geert Wilders and Mark Rutte neck-and-neck for next week's Dutch vote
Comments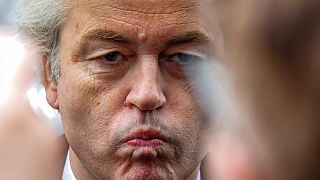 The Netherlands votes next week in the first of a series of national elections over the next few months that will help decide the future of the EU.
The first round of elections in France takes place in April, with the second round in May, and Germany follows in September.
Europe has seen a rise in support for Euroskeptic parties, and the Netherlands is following this trend.
All eyes are on Geert Wilders, leader of the anti-EU, anti-Islam Freedom Party (PVV) which is polling well and getting a lot of media attention.
A strong performance for Wilders would likely mobilise support in France for Marine Le Pen's National Front.
"Movements like mine in France, in Germany, in Austria and Italy, we were getting stronger in the last few years even before Donald Trump came to office," said Wilders.
More to the Dutch election than Wilders… GreenLeft party are set for most improved performance https://t.co/ajQm9lBSt8pic.twitter.com/gSo67dQoKZ

— Duncan Robinson (@duncanrobinson) March 9, 2017
Wilders stands to double his seat total in parliament while the two coalition parties' share is cut almost in half. Even so, his PVV party would struggle to enter the government. Most mainstream Dutch parties say they will exclude Wilders from talks to form a coalition.
Wilders is running almost neck-and-neck with conservative prime minister Mark Rutte, whose People's Party is expected to score well blow the number of seats it got in the last election. Rutte is one of many leaders of mainstream parties who have vowed to ostracise him, analysts say.
The emerging prospect that the biggest party may not command more than some 25 seats in the 150-strong parliament, with Wilders and a slew of fringe parties hiving off votes from the centre, will complicate the building of a durable coalition.
"Well yes, in the Netherlands it might be a particularly difficult phase after the elections but typically it can take some time but we eventually will form a government," said Rutte.
Still, with more than half of eligible voters still undecided in the latest polls, any political forecast in the Netherlands this time must be taken with a grain of salt.
"With 28 parties to choose from it will be hard to cast a vote," undecided voter Stefan Steur said in the town of Volendam. "Then it will be even harder to form a coalition with all those small parties that get just a few seats each."
"The Brexit will also create economic challenges for the Netherlands," reports Stratfor. "The United Kingdom is one of the Netherlands' main trading partners, and the Dutch will support London when it comes to negotiating the broadest and deepest possible access for Britain to EU markets," adds Stratfor.
Here's a guide to who's who in next week's Dutch election https://t.co/X4m0LKjsYppic.twitter.com/gSmMNfb8Xz

— Bloomberg (@business) March 9, 2017