Death toll mounts in ISIL-claimed Afghan hospital attack
Comments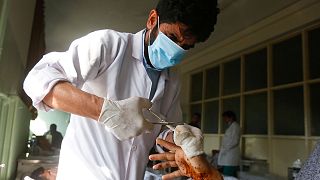 At least 49 people have been confirmed dead following a gun and bomb attack on a military hospital in the Afghan capital.
Salim Rassouli, the director of Kabul hospitals, announced the revised death toll and said the number of wounded had also risen, to 63.
According to reports, four or five gunmen went on an hours-long rampage, shooting patients and staff in the 400-bed hospital.
Doctor Mohammad Nabi broke his leg in the attack.
"It was a nightmare situation, because those who came had white uniforms on, I mean the uniform of a doctor," he explained.
"Nobody can imagine a doctor with a Kalashnikov who opens fire. It is very strange to see people in white uniforms kill people. They killed our patients in their beds and they killed our doctors."
It's not the first attack on the hospital, which is Afghanistan's largest military medical facility. In 2011, six doctors were killed and at least 23 people were wounded in a suicide bombing for which the Taliban declared responsibility.
ISIL

claims responsibility

Claimed by ISIL, Wednesday's (March 8) attack began with a suicide bombing.

The group's main corps in Afghanistan is believed to be made up of former members of Tehrik-e-Taliban Pakistan, a faction operating in the east of the country, which fights both government forces and the Taliban.

It has claimed several high-profile strikes in Kabul that have killed dozens of people.