Belarus halts collection of 'social parasite' tax
Comments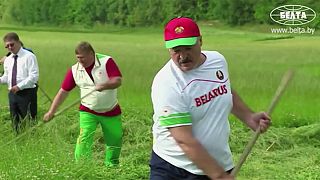 Belarus's President Alexander Lukashenko has suspended a tax on those not in full-time employment, after public opposition sparked mass protests.
Popularly known as the "law against social parasites", it targeted those who work less than 183 days a year.
These people were required to pay the government the equivalent of over 230 euros in compensation for lost taxes.
A protest against the tax in Minsk last month drew around 2,000 people, the largest demonstration in the country for six years. Similar protests have since been held beyond the capital and more were planned by the opposition for March.
Protesters score an enormous victory against Belarusian President Lukashenko, who won't tax "parasites" this year. https://t.co/y1Vu8hH5FFpic.twitter.com/SdsakIdNB8

— The Moscow Times (@MoscowTimes) 9 mars 2017
Lukashenko has run the economy along Soviet-style command lines since 1994.
In a rare concession to a public outcry, he has put the tax on hold but stressed that it has not been scrapped entirely.
Seeking to improve ties with the European Union and lessen Belarus's dependence on Russia, Lukashenko has over the past year heeded calls from the West to show greater lenience towards political opposition.
with Reuters