Fredericks steps down from IOC and IAAF roles amid corruption claims
Comments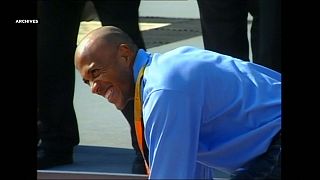 Four-time Olympic sprint silver medalist Frankie Fredericks has stepped roles at the International Olympic committee and world athletics following allegations of corruption.
On Monday the 49-year old Namibian resigned as head of a task force at the international athletics federation – the IAAF.
While the following day he quit as as head of the team evaluating bids to host the 2024 Olympics.
His decision to leave both positions comes in the wake of an IOC ethics commission investigation into alleged payments made to him in relation to the awarding of the 2016 Games to Rio shortly before the vote in 2009.
Fredericks denies any wrong doing.
Later on Tuesday the IOC announced that Swiss Patrick Baumann will replace Fredericks as president of the bis commission.