Deutsche Bank seeking eight billion euros from new share sale
Comments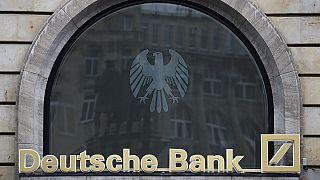 The past troubles at Germany's biggest bank mean it is asking investors to buy an additional eight billion euros worth of new shares.
Deutsche Bank is trying to draw a line under a series of scandals that has cost it dear, including over eight billion euros of net losses in the past two years.
It is the fourth time in six years the bank has tapped investors for additional capital.
Deutsche Bank strategy reincarnations in last 5 years. How do you choose a favourite? pic.twitter.com/lFjaVtgX53

— Steve Slater (@reuterssteves) March 6, 2017
Chief Executive John Cryan also says it will sell off more assets and overhaul its business structure but has scrapped plans to sell its Postbank unit to focus more on the German market.
"We are very positive over prospects of banking in Germany," Cryan said.
Weighed down by litigation costs and writedowns, Deutsche Bank has spent the last 18 months trimming its portfolio, jettisoning unwanted clients and trying to get its technology in shape.
"The question is … whether the bank will need more yet again in a few years. Until now, none of the restructuring measures have borne fruit," Stefan de Schutter, a trader at Frankfurt-based Alpha, said
Analysts said the infusion of cash should stabilise the bank but the future dilution of shares by the issuing of new ones meant that the price fell immediatly and ended the trading session down by 7.89 percent on Monday.
Deutsche Bank has confirmed plans for an €8bn capital increase and its shares have fallen 6 per cent https://t.co/UG3XREu8obpic.twitter.com/PK9zw081v9

— Financial Times (@FT) March 6, 2017
Many of the bank's investors see it as a necessary move despite the billions already ploughed into the bank in the past seven years. Since 2010 Deutsche Bank has raised more than 20 billion euros in fresh capital, yet its market value stands at just 26.4 billion.