Fillon gives defiant speech but can he save his presidential bid?
Comments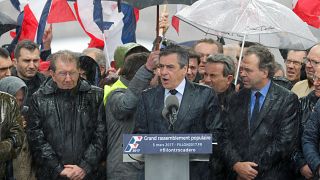 Under the pouring rain in Paris it was a defiant speech from Francois Fillon, but it remains to be seen if he can salvage his presidential campaign.
As the French right-wing candidate spoke in front of an estimated 30,000 supporters, senior Republican party members said they were preparing what they call an "alternative" option for Fillon, embroiled in allegations of a "fake" job scandal.
Fillon said: "The day I'm recognised as innocent by a judiciary that I have not lost faith in – even if I have reservations about their initial actions – my accusers who were too quick to point the finger will be ashamed of themselves."
Senior party members brought forward to Monday a crisis meeting on the scandal, as Fillon's wife broke her silence in a Sunday newspaper and defended her husband.
The embattled candidate also made an appearance on one of the main TV news programmes on Sunday night, continuing to defend himself.
The unexpected move came as pressure mounted on the 63-year-old to step down.
With many of his former allies shying away from Sunday's rally, Fillon's wife Penelope broke her silence over the allegations that she was paid around 850,000 euros of public money for work she never did.
Penelope Fillon told the Journal du Dimanche that everything was "legal" and "declared".
She said work as her husband's assistant was real and insisted that her husband should battle on until the end.
"He needed someone to carry out his tasks. If it hadn't been me, he would have paid someone else to do it, so we decided that it would be me," she said.
Fillon is struggling to keep unity within his team as pressure mounts for him to step aside after he confirmed he could be placed under formal investigation.
Christian Estrosi, a senior member of the party and close ally of ex-president Nicolas Sarkozy, said senior conservatives will "propose an alternative course" for Fillon at a meeting on Monday.
Five Republican party members of the European Parliament called for a new candidate, a day after his campaign chief and top spokesman both quit, while the centre-right UDI party withdrew its backing.
But the ex-Prime Minister told an earlier rally near Paris on Saturday: "My friends, this campaign is a strange fight. You are courageous, they want to intimidate you.
"I am being attacked but through me what they look to defeat is the recovery of the nation, and a will for change that you are representing.
"So I am asking you: don't abdicate! Never renounce! Your commitment must continue!"
Polls continue to now show that Fillon could fail to make it through to the second round of the election.
One poll suggested that if he were replaced by the former Prime Minister Alain Juppe, who lost to Fillon in a primary election in November, the Republicans would get through to the run-off.
The far-right candidate Marine Le Pen is also embroiled in a row over claims of misusing EU funds but polls continue to show that she could make it through to the second round of the April/May election.
She complained to a French TV station that all the talk about judicial investigations was stifling debate on other political issues ahead of the election.
"It's not just a background noise, it's an absolute orchestra which only speaks about these judicial cases to the detriment once again of the depth of the political debate," she said.
"So I'm continuing to campaign, at times I get the impression that I'm the only one doing so."
The candidate on the left, Benoit Hamon, also weighed in on Saturday.
He told reporters: "Fillon is offended that we are offended that he could have hired his wife with public money without her doing the job, that he wants to preserve his privileges and impunity, something unacceptable to anyone attached to the idea of a functioning democracy."
As a rally was held in Paris against corruption in politics, the French election is shaping up to be one of the most turbulent in modern times.