Despite no proof, Trump demands Congress probe his wire-tapping claims
Comments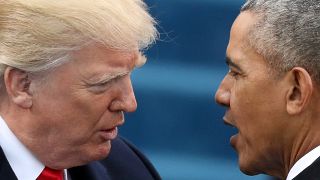 Their relations appeared to be cordial during the handing over of power, but Trump has changed all that with his series of explosive early morning tweets.
Just a day after alleging, without any supporting evidence, that Barack Obama had tapped his phones before the election, the White House is now calling on Congress to investigate the claims.  
Trump's Tweets have caused consternation not only among Democrats, who vigorously deny the claims, but also Republicans.
It is an unprecedented attack by a sitting president against his predecessor.
Obama supporters say Trump is simply attempting to deflect attention away from growing questions about links between Russia and Trump's team.
On Sunday Trump continued his communications via Twitter, with a strange question on the Russia issue.
Who was it that secretly said to Russian President, "Tell Vladimir that after the election I'll have more flexibility?" foxandfriends</a></p>&mdash; Donald J. Trump (realDonaldTrump) March 5, 2017
Trump is being pressed to back up his claims with proof and explain how he thought it was appropriate to level such serious accusations via Twitter, without citing any evidence or source.
It is still unclear where the information came from, but some reports in the US suggest it could have come from ultra-conservative news websites and not based on anything official.
White House spokesman Sean Spicer said Trump and officials would have no further comment on the issue until Congress completes its investigation.
As pressure mounts on the new president, and amid criticism about his style of leadership in the White House, some pro-Trump rallies were held across the country.
Explosive Tweets but no supporting evidence
In a flurry of Tweets early on Saturday morning, President Trump accused Barack Obama of "wire tapping" at Trump Tower before the US election.
The Tweets began at 6:00 am on Saturday morning from Trump's so-called "Winter White House" in Florida.
One Tweet spells "tap" as "tapp".
"How low has President Obama gone to tapp my phones during the very sacred election process. This is Nixon/Watergate. Bad (or sick) guy!" he Tweeted.
In a statement, a spokesman for former President Obama denied that he had ordered wiretaps at Trump Tower.
"A cardinal rule of the Obama administration was that no White House official ever interfered with any independent investigation led by the Department of Justice," said the statement.
Trump and the White House Press team have been struggling in their attempt to move attention away from the story, which is being covered by most of the mainstream media.
How low has President Obama gone to tapp my phones during the very sacred election process. This is Nixon/Watergate. Bad (or sick) guy!

— Donald J. Trump (@realDonaldTrump) March 4, 2017
I'd bet a good lawyer could make a great case out of the fact that President Obama was tapping my phones in October, just prior to Election!

— Donald J. Trump (@realDonaldTrump) March 4, 2017
Is it legal for a sitting President to be "wire tapping" a race for president prior to an election? Turned down by court earlier. A NEWLOW!

— Donald J. Trump (@realDonaldTrump) March 4, 2017
Terrible! Just found out that Obama had my "wires tapped" in Trump Tower just before the victory. Nothing found. This is McCarthyism!

— Donald J. Trump (@realDonaldTrump) March 4, 2017
And just after the flurry of Tweets accusing Obama of wire-tapping, the US President turned his attention to a reality TV show that he used to host.
Arnold Schwarzenegger isn't voluntarily leaving the Apprentice, he was fired by his bad (pathetic) ratings, not by me. Sad end to great show

— Donald J. Trump (@realDonaldTrump) March 4, 2017
Trump has also launched an unprecedented attack on media outlets, accusing them of "fake news" and slamming them as "enemies of the people".
President Trump Accuses Obama Of 'Wire Tapping,' Provides No Evidence https://t.co/xldTdQdoj3

—

NPR

(@NPR) March 4, 2017
FBI and Congress investigations are underway into what contacts there were between some members of Trump's campaign team and Russian officials during the election campaign.
Trump accuses Obama of 'wire tapping' Trump Tower phones https://t.co/ijwhc2LN0ppic.twitter.com/ejGTrZ0JhK

—

POLITICO

(@politico) March 4, 2017
Obama slapped sanctions on Russia and expelled Russian diplomats over allegations Moscow hacked political groups ahead of the US election.
Trump's choice of national security adviser, Michael Flynn, was forced to resign after revelations that he had discussed the sanctions with the Russian ambassador before Trump took office.
Other senior officials are also in the spotlight, including Attorney General Jeff Sessions who failed to tell Congress during approval hearings that he had met the Russian ambassador.
Sessions controversy heightens President Trump's feeling of being under siege https://t.co/qNFDMG4pnh

— The New York Times (@nytimes) March 4, 2017
The Justice Department says Sessions will reply in writing to questions from Senate Democrats about his meetings with Russia's ambassador last year.
Why would Jeff Sessions hide talks with Sergey Kislyak? https://t.co/BjoHETldwapic.twitter.com/o4b2zFHwL1

— The New Yorker (@NewYorker) March 4, 2017
What was Mr Sessions, a veteran of 20 years in the Senate, thinking? https://t.co/IxHwsLS3iL

— The Economist (@TheEconomist) March 4, 2017
Jeff Sessions isn't the only Cabinet member who gave testimony that turned out not to be true https://t.co/JpvXMVhwT7pic.twitter.com/2rTDTwjqMV

—

CNN

(@CNN) March 4, 2017