EU Commission non-committal over Parliament's US visa call
Comments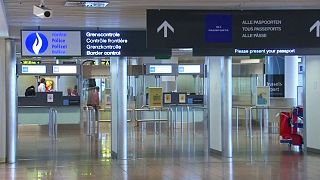 The EU Commission has said it will "take note" of a vote by the European Parliament to reintroduce visa requirements for US citizens, temporarily.
Thursday's non-binding resolution called on the Commission to end visa-free travel over Washington's refusal to grant visa-free access to people from five EU countries: Bulgaria, Croatia, Cyprus, Poland and Romania.
The Commission is trying to negotiate full visa-free access to the US for all EU nationals.
"We can take note of the resolution voted yesterday by the European Parliament," the European Commission's chief spokesperson Margaritis Schinas told a news briefing. "As you know, Commissioner Avramopoulos (for Migration, Home Affairs and Citizenship) was in the United States recently, on the 8th February, to relaunch our efforts to push for full visa reciprocity with the new US administration. And our assessment of the situation with the United States has not changed and we'll continue constructively with our discussions."
The Commission was told three years ago that several countries were failing to provide visa-free access to some EU countries.
Most – Australia, Brunei and Japan – have since resolved differences, and the Parliament says a deal with Canada is on the way over access for citizens from Bulgaria and Romania.
The Parliament says that under a visa reciprocity mechanism, the Commission was bound by law to propose by last April that visas be reintroduced for US citizens for 12 months. However the 28 member states preferred to take no action.
The EU executive body has warned that a suspension of the visa waiver programme for Americans would hurt European trade, tourism and the economy.
If the European Parliament's vote is put into practice, it is thought the Trump administration would almost certainly impose visa requirements on all EU countries in return.
Brexit: Parliament looks into the rights of Europeans living in the UK. Debate. Read more → https://t.co/vPdFvaXyz9pic.twitter.com/TPcNz5Hwab

— European Parliament (@Europarl_EN) March 2, 2017