Little progress at Syria peace talks, but fresh negotiations planned
Comments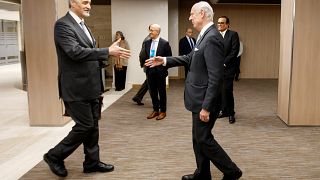 The agenda is being set for the next round of UN-brokered Geneva peace talks on Syria after eight days of discussions produced little progress.
United Nations mediator Staffan de Mistura said the warring parties now had a clear plan to pursue a political solution to a conflict that is entering its seventh year.
De Mistura said the strategy for fighting terrorism – specifically "counter-terrorism, security governance and also medium-term confidence-building measures" – would be on the cards in future discussions.
This appears to be a victory for the Syrian government, which has been lobbying to put "terrorism" on the programme.
Counter-terrorism was added as a "fourth basket" to round five of the talks, de Mistura confirmed, alongside efforts to establish a "credible, inclusive government", drafting a new constitution and holding free and fair elections.
In the latest cycle of talks, Syrian government and opposition representatives once more failed to meet to discuss the situation face-to-face.
However, both sides have laid claim to small victories.
"While it remains our goal to secure an agreement to move to direct negotiations between the government and the opposition, there is a moment in fact when it is more effective to have a proxy meeting like we have had this time."
Nasr al-Hariri, the opposition's negotiator in Geneva, said despite an apparent lack of concrete results, for the first time the discussions covered issues relating to political transition in Syria in acceptable depth.
De Mistura added that talks in the Kazakh capital, convened by Russia, Turkey and Iran would complement the work done in Geneva.
The Astana meetings would deal with "maintenance of the ceasefire, immediate confidence-building measures and operational counter-terrorism issues," the UN mediator told a reporters.
Moscow, he said, was "very active" in backing the UN peace process and Ankara and Tehran were also supportive.
De Mistura has reportedly handed all the delegations a paper with 12 principles forming the basis for the next round of negotiations.
The opposition's Moscow Platform political grouping reported he had given it a copy of the one-page document. Representing the group, Hamzi Menzer cited the UN mediator as saying the Geneva process would resume in the coming weeks.
De Mistura acknowledged the aim was to hold another round of indirect negotiations later in March, 2017.
"What I saw […] gives me some feeling that we are moving in the right direction," he told a press conference.