Syria: recapture of Palmyra risible, opposition suggests
Comments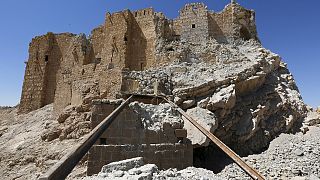 Delegates for the Syrian opposition at UN-sponsored peace talks in Geneva have suggested the recapture of Palmyra is comical.
[Following] the game of Assad and Palmyra will be like watching Tom and Jerry.

Syrian opposition negotiator
Forces loyal to President Bashar al-Assad have retaken control of the ancient city two months after it fell to ISIL for the second time in the space of a year.
The advance of the Syrian Army, backed by Russian and Iranian forces, drew praise from Bashar al-Ja'afari, the government's chief envoy at the discussions.
But opposition negotiator Nasr al-Hariri claimed it was a political stunt.
"It is the second time that we see this handover and this is obviously being used for political reasons," he said.
"If we want to follow the game of Assad and Palmyra," he added "it will be like watching Tom and Jerry."
The Islamist militants have retreated eastwards, a war monitor reports.
ISIL also recently lost territory in the north to opposition factions and is under fire from the Army in eastern Aleppo, putting the jihadists on the back foot in Syria.