German and Turkish ministers agree to meet amid tensions
Comments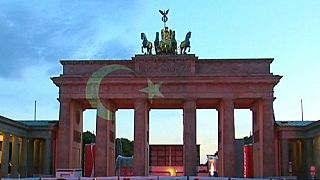 Amid diplomatic tension between Turkey and Germany, the foreign ministers of both countries have agreed to meet next week.
There has been a war of words between politicians in both countries after at least three political rallies due to be held by Turkish ministers in Germany were cancelled by local authorities.
Police had to deal with a bomb alert in one of the places where a rally was cancelled.
Ankara is hoping to rally support among Germany's large Turkish population for an upcoming referendum on giving the Turkish president greater powers.
Henk Van Bentham, the mayor of a district in Cologne, hit back at Turkish criticism of the ban, saying he feels "local authorities in a democratic country are being ridiculed", and it's "not doing any good for people of Turkish origin who like living in Germany".
The cancellations have divided public opinion.
One man in Cologne, Guerkan Cam, said: "I am against it (Turkish ministers addressing events in Germany), because we are in Germany and of course I can understand that the politicians there want to speak to the Turkish citizen here, also for the elections and so on.
"But to rally for Turkish politics in Germany, I don't think this is right and with the current government it goes in the direction of propaganda and therefore I am not a supporter of this and I am in favour of the cancellation."
But another man, Kemal Klic, said: "What I find wrong is the propaganda here by the PKK, which is listed as a terrorist group. They are allowed to do anything here, everything is possible for them.
"But a Turkish minister is not allowed to speak. These are double standards by the German authorities."
Turkey has accused Germany of what it calls "scandalous" behaviour but Berlin says it had no part in decisions made by local councils.
Protests in Berlin over the holding of a journalist in a Turkish prison have also stoked tensions.