Gas explosion kills at least eight miners in western Ukraine
Comments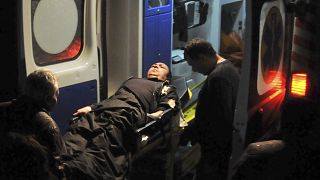 At least eight miners have been killed in a gas explosion in western Ukraine. Another six were said to have been injured.
It happened on Thursday at the Stepovaya mine in the Lviv region, nearly 500 kilometres west of the capital Kyiv.
The emergency services said more than 30 people had been at a depth of more than 500 metres when an explosion ripped through the mine.
The emergency services said some 20 miners caught up in the blast were being brought to the surface.
The prime minister flew from Kyiv to the area of the accident.
Ukraine has about 20 coal mines with another 60 in Ukrainian territory controlled by Russian backed separatists.
Although safety has improved, accidents are known to happen in the many Soviet-era pits.