Northern Ireland votes, but will Westminster prevail?
Comments
By
Euronews
with
Reuters, New York Times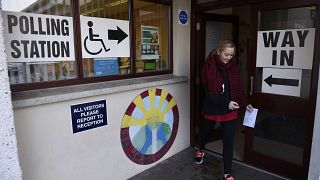 Northern Ireland's second vote in ten months is expected to draw a low turnout, experts predict, despite the prospect of devolved power reverting to Westminster.
It comes just weeks ahead of British Prime Minister Theresa May's self-imposed deadline for triggering Article 50 to begin divorce proceedings from the European Union.
Northern Ireland is the only UK country with an EU land border, and is considered the region most likely to be impacted by Brexit.
Euronews spoke to James Brokenshire, Secretary of State for Northern Ireland about the potential consequences of a UK exit for relations between Northern Ireland and its southern neighbour, Ireland.
"We don't want to see some sort of hard border emerging for the reasons I've set out. Because it is that sense of identity, it is that sense of the politics of Northern Ireland that I think have gained so much and how we do have that ability for people to move across that border in a seamless way. That is very much our ambition."
The Assembly Election follows the resignation of former Deputy First Minister and Sinn Féin politician Martin McGuinness.
The Irish nationalists withdrew support for Arlene Foster's pro-British Democratic Unionist Party, prompting the breakdown of Belfast's power-sharing government.
Sinn Féin – led by Michelle O'Neill – and the DUP are expected to easily remain the biggest groups. However, at odds over a heating subsidy abuse scandal, there are fears they won't be able to agree on a fresh coalition within the necessary three-week deadline. If so, direct rule from London would most likely return.