Firefighter 'kicks' suicidal woman to safety in China
Comments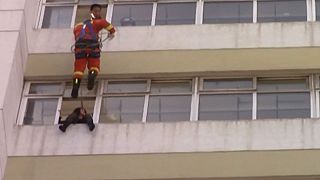 A firefighter in China's Henan Province 'kicked' a suicidal woman back inside a hospital where she was sitting on a ledge outside the ninth floor.
Firefighters who responded to the scene reported seeing a 'highly emotional' woman clinging to the outside of the building.
The commander of the fire brigade subsequently set up an air cushion underneath the woman's position and organised for a firefighter to be lowered down from the 10th floor.
As the firefighter approached her he saw her turn to speak to her family and used his feet to push her back into the hospital.
China Central Television has reported that the woman did not sustain any injuries.