Putin admits sports anti-doping system broken in Russia
Comments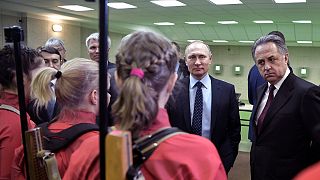 Russian President Vladimir Putin has reacted to the association of National Anti-Doping Organisations' calls for a temporary blanket ban on Russia from international sport.
Putin recognised that the system for exposing drugs cheats in Russia was broken, but he refused all accusations that Russia had ever had a state-sponsored programme of performance-enhancing drug use.
"We need to listen to WADA's demands. Because we must admit that we do have proven cases of athletes doping. It's absolutely unacceptable and it means that the doping control system that was in place didn't work. And this is our fault," he said.
Read WADA's statement here: https://t.co/b3scFEWl4Q

—

WADA

(@wada_ama) 1 mars 2017
The individual instances of sports doping were just that, individual, but they did reveal how the current system was not working, he added.
The Russian president also spoke on what the future holds for the anti-doping movement in Russia, and said he wants to set up a strict and efficient scheme to fight doping practices, hopefully by April.
#WADApic.twitter.com/DXP61tZXuR

— Актуальная политика (@Current_policy) 22 février 2017
Not everyone is convinced Russia's critics are angels themselves