Madrid police impound Spanish anti-transgender "bus of shame"
Comments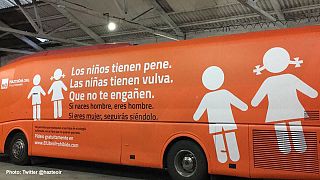 Spanish officials impounded a bright orange and white bus emblazoned with anti-transgender messages seen circulating throughout the Spanish capital.
The bus was part of an information campaign Christian organisation Hazte Oir had planned to take on a nation-wide tour.
Written along the bus' sides were the slogans: "Boys have penises, girls have vulva, do not be fooled. If you are born a man you are a man. If you are born a woman, you will still be so."
It comes just as an association of families with transgender children last month set up posters in several northern Spanish cities stating "There are girls with penises and boys with vulvas. It's as simple as that."
The bus was forced off the road after it caused an outcry among some quarters of Madrid when it was spotted on Monday. Madrid authorities say the bus technically broke municipal advertisement rules.
Hazte Oir, which translates to "make yourself heard", says the impoundment of the bus was illegal and infringes on their right to self-expression.
Group president Ignacio Arsuaga, speaking to the BBC, said its lawyers are preparing a legal challenge to free the bus, which he said in a statement protests against "impositions of gender ideology and laws of sexual indoctrination".
#ElAutobúsQueNoMiente de https://t.co/Kc2lsntWWk despierta la polémica por decir una obviedad: https://t.co/bM4g6elhgn

— HazteOir.org (@hazteoir) March 1, 2017
Arsuaga said the bus is meant to help promote a Hazte Oir book accusing some education systems of imposing sexual diversity on students thus violating parents' rights to choosing how to educate their children.
The group is also working on obtaining a second bus which the group says "does not lie".
Ciudadanos protestando delante el Ayto. de Madrid por la rentención de #ElAutobusQueNoMiente sin haber recibido resolución judicial alguna. pic.twitter.com/9XJxEwdOuE

— HazteOir.org (@hazteoir) March 1, 2017
Ángeles Álvarez, spokesman for equality of the Spanish Socialist Woker's Party,
speaking to El Pais newspaper
, said the bus is "a hate campaign based on intolerance." The Christian group had planned to take the bus to Valencia, Barcelona, Zaragoza, Pamplona, San Sebastian, Bilbao and Vitoria.
One Madrid city council member branded the bus "the bus of shame".
En Barcelona no hay lugar para autobuses lgtbfóbicos. Queremos q nuestros/as niñas/os crezcan en libertad y sin odio https://t.co/PhWWWF0Wqn

— Ada Colau (@AdaColau) February 28, 2017
In Barcelona, a city long considered one of the most gay and transgender-friendly cities in Europe along with Amsterdam and Berlin, mayor Ada Colau issued a warning against Hatze Oir's plans to visit her city. She posted on social media Barcelona is "no place for LGBTfobic buses. We want our children to grow in freedom and without hatred".
The city warned the group it could face a €3,000 fine if it comes to the city.
Hazte Oir was founded in 2001 and has been linked with far-right groups and ideologies. With at least 7,000 members, the group has collected an estimated € 2.6 million.
It has often spoken out against various social issues in Spain including abortion, LGTBI and feminist rights movements.