Hungary "scares away" last days of winter
Comments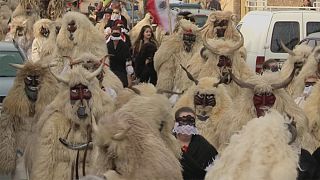 It is festival time in Hungary in the small town of Mohacs where they hold a celebration with attitude. Locals get dressed up as strange horned monsters, swill spiced wine and wander about the place making as much noise as humanly possible to scare away the last days of winter. It's called the Busójárás festival and was first held in the 18th century. At least 500 people mostly men take part in the parade.
TheAtlantic</a> I would love to see a picture from the Buso Festival in Mohacs, Hungary <a href="https://t.co/wPGCjgrvAm">https://t.co/wPGCjgrvAm</a> <a href="https://t.co/5koZAEYOIx">pic.twitter.com/5koZAEYOIx</a></p>&mdash; Bogi Macsai (EsolBogi) February 28, 2017
"Some just start by throwing a lot of feathers into everybody's hair but there are some who hand out sweets and others who just grab you," said one local.
The festival began on Feb 23 and lasts six days and can get a little "unruly":
"Six of them started jumping around us and grabbing us but truly it is funny, there is no need to take it seriously and the more you let yourself, the better time you have," said one girl.
Some say the festivities also give a nod to a legend when locals dressed up to drive away an invading Turkish army. Either way it ends with the symbolic burning of a coffin and for some that means winter's done and dusted for another year.