Trump calls for "new chapter in American greatness" in first speech to Congress
Comments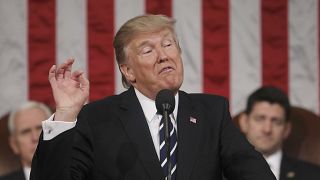 Security, trade and immigration dominated President Donald Trump's first address to both houses of Congress.
Using a more subdued tone than usual and calling for political and social unity,Trump at one point shifted from his usual rhetoric on illegal immigration to immigration reform.
"I believe that real and positive immigration reform is possible, as long as we focus on the following goals: to improve jobs and wages for Americans, to strengthen our nation's security, and to restore respect for our laws,'' Trump said.
Republicans rose to their feet when Trump promised to reform tax, spend big on security and overhaul President Obama's signature healthcare
But there was audible dissent from Democratic lawmakers who mostly sat silent throughout the speech.
Reacting after the address, Republican senator Ted Cruz said: ''I think we are poised for this to be the most productive Congress in decades. And I think tonight President Trump laid out a bold vision that I am eager for Congress, for all of us, to roll up our sleeves and get it accomplished."
However, Democratic members of the house were far more critical.
Congresswoman Sheila Jackson Lee said: "I think you have to do more than talk. You have to really have action, and the last couple of weeks of the beginning of this administration, to me, offered more division than unity. And frankly I was looking for an olive branch to really talk seriously about how we could work together.
Plans for a trillion dollar investment in infrastructure, however, were welcomed on both sides although Democrats have questioned where the money will come from.