UNICEF warns African female & child migrants at terrible risk
Comments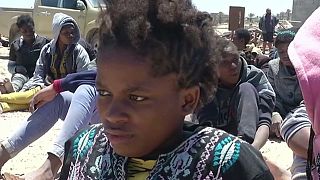 UNICEF has delivered a blistering report alleging massive abuse of children and women migrants from Africa, raped and starved in what are described as "living hellholes" in Libya.
The country has become the main crossing point for asylum seekers and economic migrants heading for Europe, following Turkey's clampdown on the main sea crossings.
Once in Europe many realise it is not the promised land, and the abuse continues.
Smuggling people from Africa to Europe is a billion dollar industry. This is 16-year-old Pati's story. #ChildrenUprooted#foreverychildpic.twitter.com/WrbhnvZ1V5

—

UNICEF

(@UNICEF) February 28, 2017
"My journey to Libya was very dangerous, horrid. Some people died on the way, it's only god who kept me alive. I still fell sick in the desert, with no water, food, nothing. that's how I got here.
Now, my way to work, I was arrested too. The policemen harass us. They come to our room to beat us, they flog us. They treat us as if we are slaves," said one teenage boy.
Famine crisis in Nigeria, Somalia, South Sudan & Yemen: We can and must act now to save lives guardian</a> <a href="https://t.co/UMccJNG5xC">https://t.co/UMccJNG5xC</a></p>&mdash; UNICEF (UNICEF) February 24, 2017
The survivors may be street smart, but those the authorities manage to save are badly damaged. The others remain hard to reach.
"For many of these kids the only currency they have is their own bodies and that's what keeps them on the street, hustling; it's what gets them food, it's what gets them air time for their cell phone card, which is their only connection to other kids.
I think what we're creating is a human tragedy that is going to last us for generations to come. Because once these children are on the street and this is their life, it gets very difficult to get them off," says UNICEF's Regional Director and Special Coordinator for the Refugee and Migrant Crisis in Europe, Afshan Khan.
Children face slavery, violence & sexual abuse on deadly journey from #Libya to #ItalyBBCWorld</a> <a href="https://twitter.com/hashtag/ChildrenUprooted?src=hash">#ChildrenUprooted</a> <a href="https://t.co/RUUQiw4sUI">https://t.co/RUUQiw4sUI</a></p>&mdash; UNICEF (UNICEF) February 28, 2017
These victims are currently operating under Europe's bright lights, often captives of organised crime, highly vulnerable, and at risk. UNICEF warns urgent action is needed on the ground in Libya, and in Europe itself.