Takata pleads guilty over faulty airbags
Comments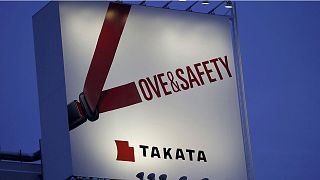 Japan's Takata Corporation has pleaded guilty to criminal wrongdoing in a US federal court as part of a $1 billion (943 million euros) settlement concerning its faulty airbags.
The move means the company can now either attempt to restructure or seek a buyer .
Takata has admitted having provided misleading testing reports to car makers about its rupture-prone airbags that were installed in millions of vehicles between 2000 and 2015.
At least 16 deaths have been linked to exploding Takata inflaters. The defects have led 10 car manufacturers to recall more than 31 million vehicles worldwide since 2008.
The settlement
US District Court Judge George Steeh approved the previously agreed settlement, despite objections from lawyers for victims of Takata inflator explosions that the criminal settlement identified automakers as victims of fraudulent activity.
Steeh said automakers could be victims of Takata's decisions to hide evidence over 15 years that its inflators were defective and still be subject to civil litigation for harm done to individuals.
The criminal settlement and penalties have been set in the United States, where the majority of air bag-related fatalities and injuries have occurred.
Steeh said he considered imposing a stiffer sentence, noting federal guidelines allowed for up to $1.5 billion in fines. But the judge said he approved the settlement because Takata could otherwise be pushed into bankruptcy, delaying efforts to replace millions of potentially deadly inflators still on the road.
"Destruction of the corporation would probably have been a fair outcome in this case," Steeh said, adding he had been involved in a separate case in which Takata had admitted to price fixing.
Reckless
Lawyers for US vehicle owners have sued Honda, Nissan, BMW, Ford, Mazda, Toyota and others, alleging they knew about the defective Takata inflators for years but kept using them.
Lawyers for vehicle owners said in a court filing on Monday in Florida that automakers acted "recklessly" because "they were focused on the low price of Takata's inflators and concerned that if they stopped using Takata's inflators, they might not have a sufficient supply."